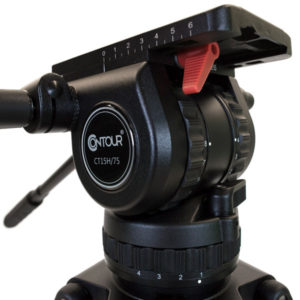 Product Highlights:
The Contour CT15H Fluid Head is part of a professional video tripod system, recommended for all handheld-type camcorders up to 14.5 lbs (6.6 kg).  Camera attachment to the fluid head is fast and safe with the quick release plate.  The plate positively snaps quickly in place with a safety lock that protects against accidental slippage.  The plate also provides a precise camera slide-load balance system, which gives a more exact adjustment than just a sliding camera plate.  Leveling the head is quick with a integrated 75mm diameter bowl.
The reinforced fluid head has 8 grades (1- 8 steps) of counterbalance and 4 grades (0+3 steps) of pan drag. It is resistant to temperature changes and allows fine, high quality velvety camera movement in extreme weather conditions, enabling the camera operator to get the shot the first time with predictable smooth camera moves.
The CT15H head is recommended for small handheld camcorders in any configuration.
Product Highlights
–  Video 15 Professional Fluid Head with 75mm Bowl Mount
–  8 Counterbalance Settings & 4 Steps of Drag
–  Supports 1.3-14.7 lb (.60-6.7kg)
–  Includes 1 Pan Bar & Quick-Release Camera Plate
**Two year USA manufacturer's warranty.
$749.00